Upminster in 1982 & 2022
see copyright notice. Page created 11-Mar-2022. Use the button groups above to navigate quickly around the site.
One morning early in 1982 I went out with my new camera (a Nikon™ FM) to take some test pictures around Cranham and Upminster. Forty years on, I've revisited eight of the locations and taken new digital photos. The two sets can be compared by using the interactive map below.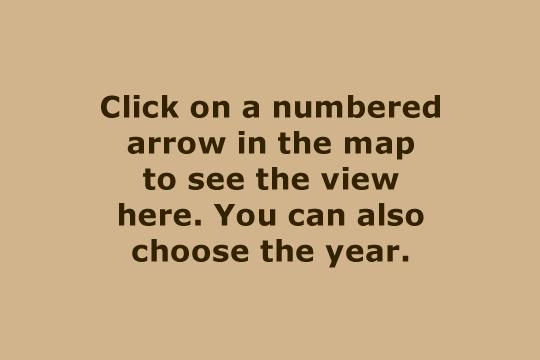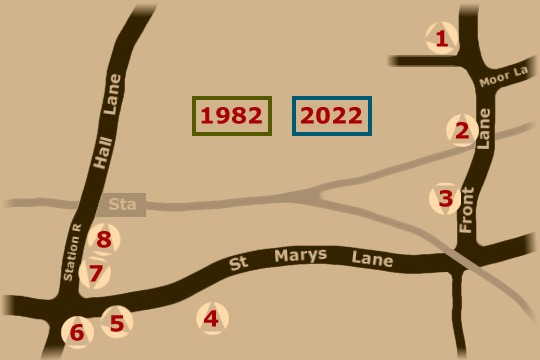 Notes: In Cranham Village (1), the Plough - previously run by Charrington - is now a Craft Union free house. And Cranham Garage no longer has petrol pumps! Willow Parade (2) looks much the same, but the roadside wire fence, like my garden, has been taken over by ivy! Wantz Bridge (3) is now marked more clearly as a hazard, following a number of tall vehicle strikes. And the bus stops have been moved further from the junction. Many people who grew up in Upminster will remember being taken to feed the ducks at Clockhouse Gardens (4), but it now seems to be dominated by Canada geese. If these had a wider vocabulary than "a-honk" then I reckon they could explain the present woeful state of the grass. The Shell forecourt (5) made a colourful test shot in 1982, as it did on the day of my return visit. The layout of the town centre crossing (6) is different, and many of the shops have changed hands. I can vividly recall the smell of roasting coffee that came from Planters! The trend towards outdoor dining has changed the view in Station Road looking south (7), and the pavement has a new bay looking north (8). Also gone is the old Roomes "homeware" store, replaced by flats and an M & S Food Hall.