Christmas cards 2020...
see copyright notice. Page created 15-Dec-2020 updated 10-Dec-2022. Use the button groups above to navigate quickly around the site.
Normal Christmas (2022)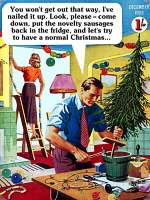 I found a pile of D-I-Y magazines in my late Dad's garden shed, including some early issues of The Practical Householder. I believe it came from the same stable as Practical Wireless, of which my collection will perhaps be found in a similar way one day!
The starting point for this card was the front cover of PH volume 1 number 3. The speech bubble fitted conveniently in place of the magazine's title banner, and the only other change I made was to repaint the yellow rear wall in a pale blue, to suggest a window. Incidentally, there's a terrifying article inside, describing how to make those coloured light bulbs ("dipping is best done with the bulb at the end of a loose flex and burning"...).
And yes, fridges were on sale in 1955, but our thrifty D-I-Y bloke could apparently save money by making his own; a later issue (no 12) gave full instructions. The cost was stated as £49/19/8, of which £31/5/- was for the sealed refrigeration unit (plus 12/1 "Cost of returning empty crates (British Railways)") and £5/14/- for the polished asbestos-cement cabinet lining!! No doubt it would have taken pride of place in the kitchen of the bungalow he'd made earlier (issues 1-8).
Deexel Ad (2021)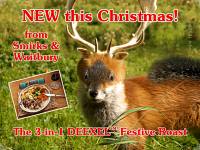 Tired of boring old "3-bird" and "3-fish" roasts? This year, wow your family and friends with our amazing new 3-in-1 DEEXEL Festive Roast! Developed by MonSanta Bio-tech in partnership with the National Elf Service, the Deexel is a genetically-engineered fusion of 3 mammals - deer, squirrel and fox. The flavour is of rich, gamey venison, with a strong hint of nut roast and a lingering aftertaste of urban street food.
May contain traces of nuts and cardboard. Not for sale in the EU.
A real advert for a Three Fish Roast, by one of the supermarkets referenced in the fictitious Smirks & Waitbury name, made me think "Blimey, what next? A Three Mammal Roast?". That would be a tricky thing to construct, but maybe those Frankenstein Food technologists could create some ghastly GM monster...
I had some recent photos of a fox and a squirrel, taken from about the same angle, and found a compatible one of a magnificent stag in Kent, some 20 years ago. So I set to work to meld them together (a Three Pest Roast?). The stag had a similar background of vegetation to the fox, but I had to blur it selectively to make a convincing match. The inset is actually a turkey dinner from Christmas 2018, with the addition of a cracker modelled from 3 cylinders and 4 cones in good old trueSpace3.
Recyclabubbles (2020)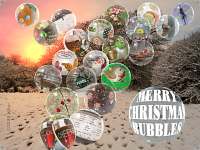 This virus-torn year, we were encouraged to "form Christmas Bubbles" - so that's exactly what I did. They contain fragments from my back catalogue (see companion pages), with a backdrop of that faithful old snowscape from January 2013, this time illuminated by a (synthetic) sunset.
It's a bit of a cop-out. My first idea involved a chimney and rooftop, with a table perched thereon, offering gloves, masks, sanitiser etc and a "Santa Stop Here" sign. But in the end I decided against this explicit Covid-19 theme, for fear of upsetting anyone who suffered as a result of the pandemic.
Wishing you and yours a Merry Christmas, and an Unprecedented New Normal Year...